Ugh, September is more than half-way through! When did that happen? Well, I guess I know literally, but I'm at uni now! Oh my Gosh. I'd like to say I've been really busy, but only been busy the last week or so. I need to keep up with this blog, though. I hate to neglect it.
I've bought a fair bit of makeup recently - so thought I'd share with you some pictures. I'm glad I have these pictures because there was a moment or two when I thought my camera had broken.
This summer I visited London a couple of times, as I'm sure I mentioned, and of course, had to stop by the MAC Pro store! Oh, how I love that shop. And whilst I was there.. I saw Nicola of
Pixiwoo
fame! She was very lovely and veryyy pretty.
And I've bought.. a couple of things. Nothing much. (:

"Electric Coral" - MAC Pro
I've been lusting after this pigment for ages. I've gone through a bunch of samples and figured I might as well just buy the pot. It's Electric Coral, such a gorgeous bright bright colour.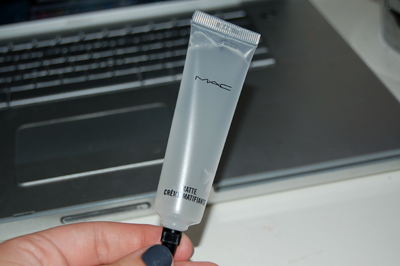 "Matte" - MAC
Now, I've heard good things about this stuff, and I wasn't disappointed. I love to use this underneath my foundation to really even out my skin. It's just called Matte, but it's super useful.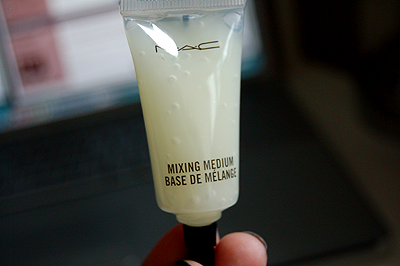 "Mixing Medium" - MAC
And I've been in need of some sort of Mixing Medium for a while now, so I invested in this. Works very well with pigments, I'm glad to report. I recommend this for use around the eyes, because really, you don't want to be using alcohol-based products there.


"Naked Honey Skin Salve" - MAC
I also got to check out something I was really looking forward to: Naked Honey! I loved this collection, although I only got one item from it, I did like it The thing I was desperate for, and am still in love with is Naked Honey Skin Salve. It is properly.. gorgeous! I adore it. And, lucky me, I got the last one at my counter! It has literally not left my bag since.

Colour Craft wasn't really my thing, because I pretty much hate mineral things, but as collections go - I liked it. Been increasingly unimpressed with MAC of late, because I'm not really interested it any of the products/colours/etc. But for people who like lots of glitter on their face - this was a perfect collection! I did grab one thing, because it was orange, and I couldn't help but love it.

"Nice Mix Up" - MAC
I cannot resist an orange lipgloss - the only two I have from MAC are orange, now that I think about it. And this one was a pretty marble effect in the tester (even if the one I got wasn't so marbled). As disappointing and sticky as all of MAC's lipglosses - but I'm a sucker.

Not long after that, Love That Look came out - which, to be quite honest, I was desperate for. I
really
loved that collection, because Starflash eyeshadows are beautiful. I just love high intensity, high pigmented, bright colours, with an excellent finish, and these are just that!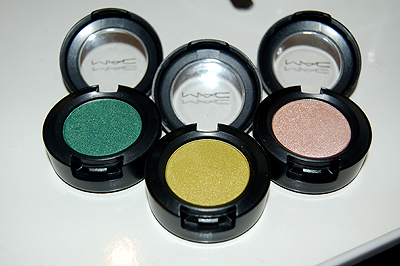 L-R: "One-Off", "Rated R", "Grand Entrance" - MAC
I got three, haha. I wanted them all, so this was restraint, for me! If you know me you know I loveeee green.
So, naturally, I splurged on One-Off (the lovely deep green there) and Rated R, the bright green. Then, after a second trip to MAC, bought Grand Entrance, which I'm loving swiped all over my lid with big eyeliner. But the greens are absolutely gorgeous. One-Off is a very pretty colour, very vibrant and very intense, a much prettier green than Humid, or anything like that.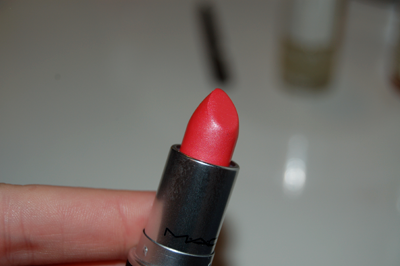 "Costa-Chic" - MAC
I got this from Euristocrats 2, because everyone had raved so much about it. It's a pretty light pink, with a blue tinge to it. All I think of to describe it is 'pretty' - and thats about it. It was passable, as was most of the collection.

I managed to get my hands on a bunch of MAC's newest collection - Makeup Art Cosmetics (which I don't really get, why name a collection essentially 'MAC MAC'?!) before it was released over here - thanks to my wonderful father who brought me back some as a present from his trip to America back in August. There aren't words for how much I
love
this collection. I feel like they've really been original, releasing what I've wanted for a while - colour! The lipsticks/lipglosses weren't to my liking, but they rarely are. So here is what I really wanted, and what I loved.

"Photorealism" - MAC
I wish I could be bothered to take a better photo of this - because this doesn't do it justice and it is an absolutely awesome quad - I can't stop wearing it! I feel like it'll be gone very soon, because I can't stop reaching for it. There are so many ways to wear this, and it's definitely the most unique and prettiest of the three quads.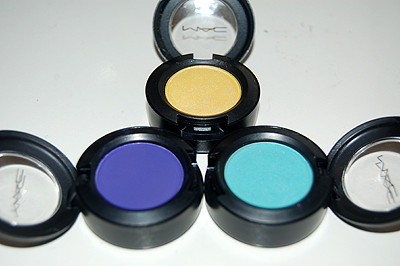 L-R: "Violet Trance", "Crest The Wave", "Haunting" - MAC
All three of these I have wanting for
so long
, I have been so desperate. I wanted Crest The Wave - but didn't want the entire Stowaway's Quad when it came out, I missed Haunting with McQueen and bought the paintpots instead, and just couldn't find Violet Trance, but I finally have them all, and love them all. Wear them all at once, please!


T-B: "Colour Matters", "Obviously Orange" - MAC
Two of the technakohl's from the collection - which.. I love! Surprise surprise. The orange one is absolutely lovely. I've worn this close to the lashes, blended out, with Firespot over the top.

And, finally, another collection I was looking forward to was the A/W 09 Nail Trend by Jin Soon. I think I loved all of these! I got two, but I really want more - I sadly cannot afford. I'm not sure why people complain about the price/formula of these? They're cheaper than most OPI's, and dry really quick!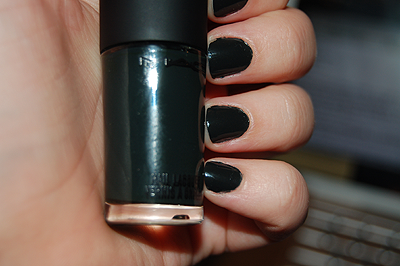 "Beyond Jealous" - MAC
Excuse my shitty nail-job, haha. Had to file my nails right down the other day, all cracked and split at the top. That aside, it's a stunning colour. Someone described it as a blackened teal - but I think teal's as more blue, this is more of a very very dark green. The picture really does not do it justice.

"Cool Reserve" - MAC
Absolutely no words for the gorgeousness of this colour. So beautiful. Looks incredibly lovely sheer, and builds to a lovely finish. It's a muted grey lavender. Think OPI's Done out in Deco, or GOSH's Wild Lilac, but with a light grey in and sheered out. Absolute favourite. I'm even tempted to buy a back-up. Tempted.

And that probably explains why I'm now broke! Fun stuff. Saving up empties for Style Black, I tell you.